Hi. I'm Becki Rupp.
Are excited about an upcoming trip, yet not sure you're physically fit enough to truly enjoy it? As a certified personal trainer (ACSM) and adventure coach, I'll support you in preparing physically and mentally to come home with amazing memories.
I've hiked, biked, paddled and explored in 40+ US states, plus countries in Europe, Central America and South America. I guided sea kayak tours for two years. I've searched mountains and forests for missing people as a wilderness search and rescue team member. 
With my combined experience and skills, I'll help you build your strength, stamina and confidence so you can make the most of your adventures and your LIFE!
Schedule a FREE 30-MINUTE CONNECTION CALL about your upcoming trip!  
Why should you use a coach before a trip?
As a coach, I will guide you on how best to prepare for activities you'll do on your trip before you leave. Then you'll be ready to really enjoy them when you get to your destination. 
You'll get a customized training plan so you'll be ready for your adventure. Plus through coaching sessions, you'll get support and motivation during your pre-trip journey. Get more details about coaching here.
We'll collaborate on how you can find the time and energy to add more activity into the weeks before your trip. I'll help keep you on track through accountability and encouragement. 
If you have challenges or setbacks along the way – such as illness, injury, work, family commitments – we'll figure out how to overcome them so you can still be ready to make the most out of your trip.
Through all of this, you'll gain strength, stamina and confidence for your trip, and for whatever you want to do in the future!
What inspires me
My inspiration to help people prepare for adventure trips came through working with a client who had just retired. She was excited to finally have the time and resources to travel more. Yet she was worried that she didn't have the energy to really enjoy the trips she wanted to take.
As we worked together, she gained strength and stamina, as well as confidence for her upcoming trips. It was incredibly rewarding for her, and for me.
Her situation isn't unique. Many of us spend decades focusing our time and energy on careers and/or kids. We look forward to traveling more when we have fewer responsibilities. When that time comes, though, some find that they haven't invested enough in taking care of themselves. What they dreamed about doing now seems daunting.
I know it's not too late though! My grandparents walked the Great Wall in China, explored the Amazon and Machu Picchu, toured Vietnam and more into their 80s. That's in spite of the fact that when my grandpa was 55, his doctor told him that he was on the verge of a heart attack. He needed to change his diet, start exercising and stop smoking.
My grandpa was successful with two out of three. He started running (and won many races in his age group) and eating healthier meals. He and my grandma traveled extensively and lived in their house until the end.
They're my inspiration, and so are my clients as well as many people I've met traveling. I'm excited to help you make the most of your bucket list adventures too!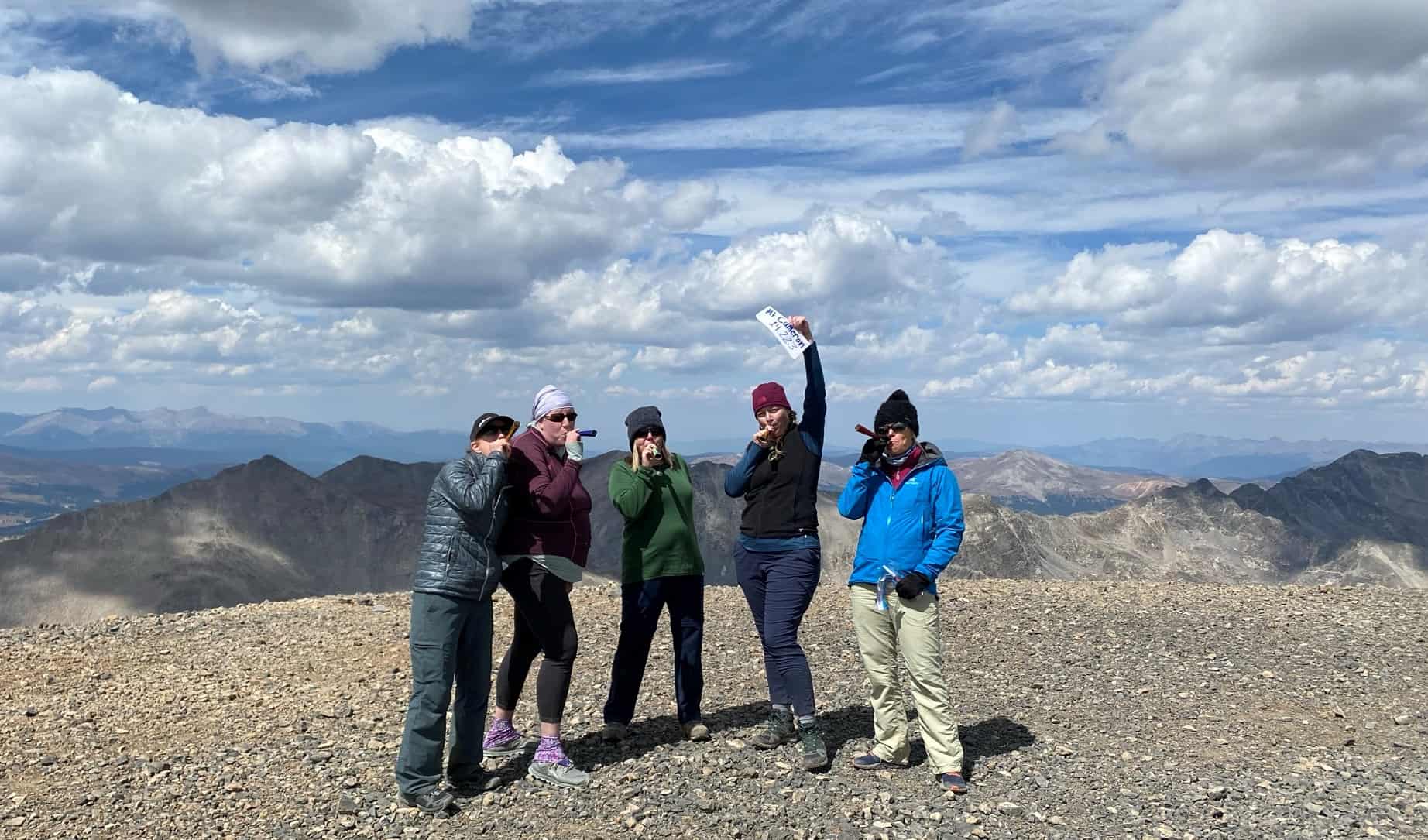 What my clients say
"Coaching with Becki helped me gain confidence that I could reach my goals, and she helped me stay accountable week to week on my training plan. I felt supported and encouraged the whole time." – Amanda M.

"I feel like my walk along the Cinque Terra would have been much harder without the training I had with Becki.  I am stronger and more fit than I've been in years!" – Julie M.
"My physical conditioning and my mental preparedness really improved as a result of Becki's coaching. The coaching plan and coaching sessions gave me confidence that I am preparing for my hike and will be able to complete and enjoy it." – Peggy L.
"I was glad to have support and guidance to prepare for my journey. Becki was happy to answer any of my questions and give suggestions on how I could improve my fitness and prepare mentally." – Brenda K.
What do you dream of doing?
My dream day includes exploring outdoors by my own power (walking/hiking, cycling or paddling), stopping to smell the roses (literally!), discovering a beautiful bird or garden or historic building, watching a gorgeous sunset, sharing that experience with others, and feeling pleasantly tired as I go to bed.
And of course eating delicious food, followed by a glass of red wine and a piece of dark chocolate!
What does your dream day look like? What about your dream trip? What experiences do you dream of having? 
Let's talk about your Dream and the steps to reach it!